An Aquatic Invasive Species (AIS) is a marine animal that relocates to a new habitat and disrupts the natural balance of the ecosystem.  These species may have no natural predators in their new habitat and therefore often grow in abundance, threatening the survival of the native species.  One aquatic invasive specie that is currently an issue in eastern New Brunswick is tunicate.
"Tunicates, or sea squirts, are small marine animals that spend most of their lives attached to an underwater substrate.  They are named "tunicate" for their thick skin resembling a tunic.  They feed by filtering seawater through their siphons".
(Excerpt obtained from DFO website)
Ecological & Economic Impacts of Tunicates
May out-compete other organisms for food and space, thereby altering the natural community dynamics
Threaten aquaculture, fishing and other coastal and offshore activities
Increase the weight of the aquaculture cultivation gear, causing work to be more demanding
Increase the operating costs for shellfish producers and processors
(Excerpt obtained from DFO website)
Local Concerns
Currently tunicates have not been found on the Miramichi.  DFO's tunicate monitoring program is relatively new starting in 2009, with 28 sites monitored throughout the Gulf Region coastlines of New Brunswick, Nova Scotia, and Prince Edward Island.  Several of these sites are now located on the Miramichi.  As of 2012, 34 sites are being monitored, with sites on the Miramichi at Escuminac, Baie Sainte-Anne, Chatham, Douglastown, and Neguac.
There are five tunicates now present in the Gulf Region:
Clubbed
Golden Star
Pancake batter
Vase
Violet Tunicates
These tunicates have been spotted at monitoring sites around Prince Edward Island and some found in Nova Scotia.  Tunicates were discovered in New Brunswick at two locations, the Violet Tunicates was found along the southeast coastline around Cape Tormentine and during the summer of 2010 the Golden Star Tunicate was found at Caraquet.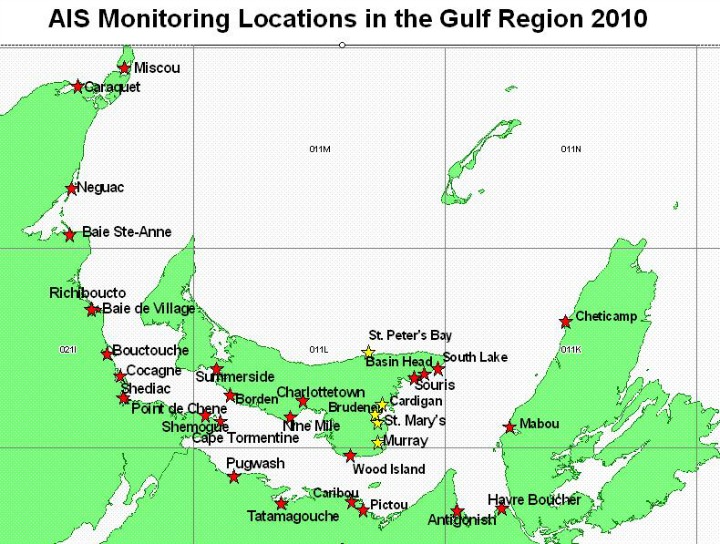 At these monitoring sites, two collector lines are placed in the water with three PVC plates spaced out along the lines.  If tunicate larvae are present in the water, they may attach themselves to these plates and grow.  The collector lines are weighed down by a brick at the bottom and remain suspended in the water column using either a buoy or attaching them to a floating wharf.  The lines are located where there is a lot of boat traffic, the most likely pathway for tunicate "hitchhikers".  These lines are deployed into the water late May or early June, plates are examined in August, and then finally retrieved in October.  The plates are stored and sent to the DFO office in Moncton where they are processed in the lab to determine if tunicates are present, and if so, what species and what percentage of the plate is covered.
Preventive Measures to Avoid Aquatic Invasive Species
General:
Learn about these species and how to recognize them using the identification guides in this booklet (you can also download the PDF document)
Do not move organisms from one area to another
Never release live bait, aquarium fish or plants into open water or sewer
When taking your boat out of the water:
Inspect and remove fouling plants and animals from boat, motor, anchor, trailer and equipment with freshwater or spray with pure vinegar (protect your eyes)
Clean hull and dispose of removed material far from the water
Drain water from your motor, bilge and wells. If possible, let equipment dry completely
Use environment-friendly anti-fouling paint or products on your boat hull
Shellfish harvesting:
Clean shellfish where they were collected
Move as little water as possible with the shellfish
Spread any leftover water on the lawn
"De-sand" shellfish in the original water or in a bucket with water that will be thrown onto the lawn
Diving and other water sports:
Rinse equipment with fresh water after every trip
Let equipment dry completely
(Excerpt obtained from DFO website)
REPORT INVASIVE SPECIES
Call 1-866-759-6600 (Southern Gulf St. Lawrence Region)